Last round's answer was Akito/Agito Wanajima from Air Gear!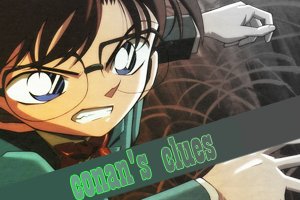 Today Conan was walking through the woods when he RAN INTO A SPOOKY GHOST AAH. But it wasn't like any ghost he'd ever seen before-- as a matter of fact, it didn't look like a ghost at all. And it kept saying something weird, over and over, almost like it couldn't say anything else. Before he could investigate further, a guy in weird looking purple scarf and purple headband came running up. It turns out that the creature really was a ghost, but some kind of creature Conan had never heard of! And the guy was some kind of futuristic seer, and he also ran a gym where he trained these guys. Weight training?? How can you make ghosts lift weights, really??
Tell Conan the
name of this guy
and the
series
he comes from to earn
three random cards!
This round ends
Thursday
,
October 24th
at
12:01 a.m. PST
!