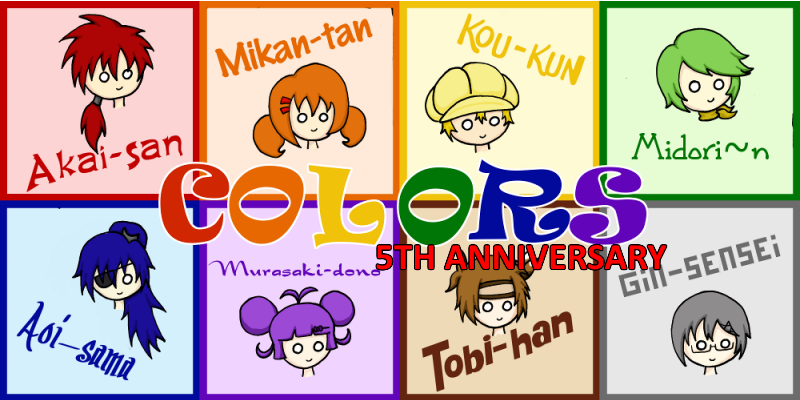 The image used for this banner was created by Moon!
Hello, players! It's been five years already since Colors TCG started! Wow, this is really something. But you know what that means - it's time for celebration, special events and tons of awesome prizes to get!
As for every anniversary, we've prepared a special, one-time only deck that you will be able to collect. The first two, Anniversary and Countdown, featured separate pieces of art of our beautiful Colors Universe characters, while the third one, Celebration, was a puzzle deck featuring them all. This time, like last year (with the deck Fourstival) we're gonna do both at the same time, with our brand new
Fivetastic
deck! Cards 1-5 and 16-20 will feature our 10 characters, while 6-15 will be parts of a giant awesome image also used for the master badge. All of this amazing art was created by our amazing Sky! This mixed system may sound weird, but I promise you - it will look amazing when you collect all the cards!
How to collect those awesome cards? It's simple! For the next 20 days, there will be a new Anniversary event where you can win the Fivetastic card with the same number as the event (among other prizes, of course). Some of them will be discussion posts, others can be special games. They shouldn't be very hard, but in case you miss one of more of the cards, there will be a bonus 21st day, where you will be able to claim a choice Fivetastic card. Of course, you can also trade it to someone!
Rules in short:
♥ All games can be played up until
July 1st, noon GMT
!
♥ Prizes will be handed out throughout the month.
♥ Each game will also earn you a special limited edition card from the
Fivetastic
deck that can only be won from Anniversary games.
♥ The Fivetastic deck is not in the randomizer and is not acquirable through choice cards, but it is masterable if you collect all 20 cards.
♥ Mastering this deck will earn you one instant character mastery of your choice. (you cannot mix and match cards. if you already have some cards from the deck you want to instant master, that means you'll now have a few duplicates!). If you have no deck you would like to instant master, you may also choose to receive 20 random cards instead!
♥ If you don't plan on mastering the Fivetastic deck, you are entirely free to trade the cards to other players!
♥ The mods will receive the Fivetastic cards from their events as mod pay. They have to participate in other events like every other player, though.
♥ Don't be alarmed if you miss a day or find that you are unable to answer certain days. There will be a bonus day at the end where you can earn an extra Fivetastic card of your choice. Many players will be looking to trade their extra card away if they've already acquired the entire deck!
Day 01 - Record Keeping!
As usual, we start with some formalities. To make a reward collecting thread, leave a comment to this post with the subject of your comment labeled - Your Name's Reward Collecting Thread.
Example: Raven's Reward Collecting Thread
Some anniversary games will require screened answers. Some will not. For those that require screened answers, you will be asked to link your reward collecting thread with your answer. Mods will be posting your rewards as a response to your reward collecting thread! Please do not share answers with anyone even after you receive your rewards, as all games will be ongoing until the end of the month. DO remember to link your reward collecting thread if asked to for the games! You must have a reward collecting thread in order to play anniversary games that use screened answers!
By making yourself a reward collecting thread in this post, you will receive
2 random cards and fivetastic01
!

Gee Akai-san you're freakin handsome ;;
Have fun! Remember, this event, as all Anniversary events, closes at
July 1st, noon GMT CLOSED!
!
Oh, one more thing! Here is a 00 card for you: